Order now
PROTECT YOUR DOG'S
BACK AND JOINTS
Make climbing SAFER and EASIER
The Chasing Tails Dog Ramp for Beds will make your pup more independent while protecting them from harm. Build to last and quick to set-up, this dog ramp makes getting on and off of couches and beds easier than ever!
Why Do Dogs Need a Ramp?
click or scroll to learn more!
Why Your Dog Needs a Ramp!
When jumping on or off a couch, the
pressure on a dog's joints and back can cause health problems.
You will no longer need to constantly
help your pup on or off their favorite napping spot
Using a dog ramp is
safe and convenient for pets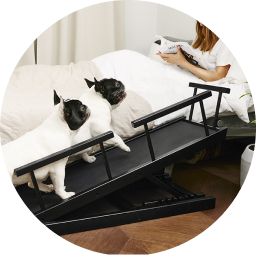 Your best friend can snuggle up to you
anytime they want
Your doggo will
enjoy a lot more freedom!
Can be used by

dogs that weigh up to 90 lb
We know that
the greatest gift of all is
family time
for family members human AND furry!
Subscribe now and
get
10% off


your first purchase
This is your unique discount code: 
‍
CT10OFF
Give your buddy

safety

and

freedom


with this trusty
Dog Ramp

Price:
$149.95*
* Subscribe & get 10% off
your first purchase
Order now
Secure payment transactions
All products shipped from the USA
Free shipping & returns
Delivery in 3-5 working days
30-day money-back guarantee
Hear from
‍
happy pet owners
Emily E
January 12, 2021
United States
Verified purchase
Adjustable Dog Ramp
Adjustable dog ramp. Non slip surface. Side rails removable and can be placed in different positions depending on how you place your ramp. Ramp frame and rails are wood. I like the dark wood color and that I can lay it flat and slide under the bed when needed. My two small dogs love this and figured out what it was for with little prompting. Sturdy ramp that feels like it will last a long time.
Arthur B.
January 27, 2021
United States
Verified purchase
I love the training video!
This dog Ramp is wonderful. I really appreciate the additional training video though. With the help of the training video, my Shiba Inu boy started properly using the ramp in two days. Great product and I like how they think about humans, too :)
LR
January 19, 2021
United States
Verified purchase
Great Product
Very sturdy. My little dogs go up it with no problems. I have stairs for the bed and I use this ramp for the couch. It is perfect. The next vacation, I am going to tryit with my SUV.
Cheryl Grant
December 10, 2020
United States
Verified purchase
Great for dachshunds
This is a well constructed, conveniently mounted, and very robust pet ramp. I think it would stand up to bigger dogs, but I'm not sure. A good fit for my schnoodle, certainly.
Load more
verified reviews
Kimberly Axne
January 6, 2021
United States
Verified purchase
Perfect for our 13 year old Yorkie!
Very sturdy, perfect height for our couch. Love that it is adjustable. We have 2 small dogs and they both used it as soon as we set it up.
Jeremiah Craig
December 10 ,2020
United States
Verified purchase
Ramp
Easy to fold out.
Bradford Moran
December 12 2020
United States
Verified purchase
Serves its purpose
It's amazing! The carpet is soft and dense, the whole structure is sturdy and simple to bring together. Greaat that when my dog runs on it it doesn't wiggle or wobble, so she is confident with it. All in all, I'm really pleased with this ramp. I'd buy it again.
Zachary Hodges
December 92 2020
United States
Verified purchase
Works well with elderly dogs
works well for my aging dog - she caught on right away and uses it every day
Training your pup to use a dog ramp is easy
Frequently asked
questions:
What are the shipping costs and times?
We ship items inside US for FREE.

Shipping costs for customers ouside US are calculated during checkout based on weight, dimensions and destination of the items in the order. Payment for shipping will be collected with the purchase. This price will be the final price for shipping cost to the customer.

All orders generally take 1-2 business days to process and ship. Once shipped, transit time is typically 2-7 days.
What is your return policy?
We hope you love your new product. But if for any reason you're not entirely satisfied, it's super simple to return with our 30 day returns policy.

Within 30 days of receiving the product, simply send back the items that you want to return and we will replace them or refund the amount you paid for the item.

Return shipping should be paid at the customers expense and will be required to arrange their own shipping. However, in specific cases (e.g. if the item was delivered with pre-existing factory defects) we will cover the cost of shipping the item back to us. Please contact us to see if you're eligible for free return option.

If you have any questions about our returns process or would like to return an item, you may email us at hello@chasingtails.store or by post to:

Return Address:

Smart Brands Lab
Total Distribution Service, Inc.
301 Figueroa St.
Wilmington, CA 90744
United States
Phone: 03108447457

In order to get your item refunded, the tracking information of the returnable item should be provided to hello@chasingtails.store
What are dog ramps for tall beds?
When you have a small or medium breed dog, and they cannot get on and off tall beds, you may wish you had some kind of dog ladder for your bed. A dog ramp can be even better than doggie stairs when it comes to helping them.

The gentle slope of a Chasing Tails dog ramp can make it easier for pets to climb on and off your bed.

This type of ramp can also be used as a better alternative to dog stairs for couches.
Are pet stairs or a pet ramp for high beds better?
When deciding between pet ramps for beds and dog bed stairs, your safest choice is a ramp. For couch or bed access for smaller breed dogs without health or mobility issues, both are okay. But if your pet has mobility issues, it's probably not a great idea to get bed steps for high beds.  

To give your pet the mobility to move around, dog ramps for high beds are an excellent choice. Chasing Tails' ramps will provide you with the comfort of knowing they won't be getting hurt by jumping up and down beds or couches. Folding dog steps for beds or dog steps for high beds can work for some pets, as long as they don't have mobility issues.  

Although dog stairs for beds could work for some dogs, climbing up steps can be difficult for older dogs or those with joint conditions, even for smaller breed dogs with short legs. Chasing Tails' bed ramp is the perfect solution.
How do I prevent my dog from slipping down the ramp?
Chasing Tails dog ramps for beds are all covered with a soft, slip-free rubber coating that will prevent your dog from slipping or sliding down. There is no need to cover our dog ramps for beds, or treat them with anything; your pet won't slip or slide.
Why should I use the dog ramp?
Dog ramps for beds make it convenient for pets to climb up on the bed to spend some quality time with their pet parents. If your dog is a small breed with short legs, or you are not physically able to move them on and off your bed, bed steps for dogs are a solution.
What is the best dog ramp for beds?
The Chasing Tails indoor pet ramp for dogs is a quality pet bed ramp suitable for pets of up to 90lb. It is a collapsible dog ramp, so it's easy to adjust, move around, and store.  

The best doggie ramps for beds usually slope gently and make it easy for their little legs to get up. Dogs with joint problems or other health issues, and smaller dogs with shorter limbs may struggle with steeper ramps or stairs.

When you're shopping for pet bed ramps, consider the following:

It should be constructed with high-quality materials.
It should have a gentle slope.Bed ramps for dogs should be adjustable to suit various heights.
It can comfortably accommodate your pet's size.
The surface of the ramp should be slip-free to avoid injury.
It should be simple to use, move around, and store.

Folding dog steps for beds are an investment in your pet's comfort, so it's worth getting a quality product that suits your pet's needs. The Chasing Tails dog ramp for beds is an ideal choice because it covers all these points, and it looks great!
Other
benefits


for you and your pet:
Sturdy construction from premium wood

supports dogs up to 90 lb
No screws! Comes

pre-assembled
Paw-friendly rubber

for extra firm grip
Adjustable height that
will fit your buddy's needs
‍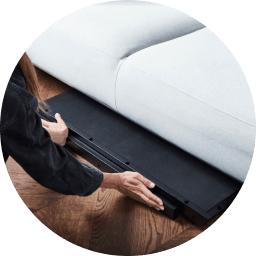 Uniquely compact enough to
fit under couches
A modern design that
blends in with any interior
All products shipped from
the USA
HELP YOUR BUDDY REACH

new heights
Give them the freedom you both need!
Join the hundreds of families who have completely changed their dog's lives! With the Chasing Tails Dog Ramp for Beds - back and joint injuries are a thing of the past.
Subscribe now and
get
10% off


your first purchase